From Cafeteria Cashier to Central Sterile Technician
At Brigham And Women's Faulkner Hospital, the opportunities for career development are undeniable. Just take Abby Gega as an example. The Central Sterile Technician kicked off her career with us 13 years ago, working in the Food and Nutrition Department, where she tried several different roles including tray line and cafeteria cashier.
By 2006, she decided to take her career journey in a new direction, enrolling in a Central Sterile Technician training program at MassBay Community College. Upon completion, she became a certified central sterile technician with BWFH, and has stayed with us ever since.
"The hospital helped me every step of the way," she describes. "I advanced my career and I have two certificates now."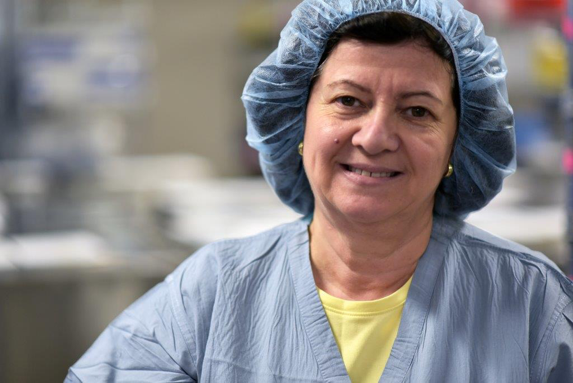 What is a Central Sterile Technician?
So, what exactly does a Central Sterile Technician do? Individuals who work in this very important role ensure that the instruments that doctors and surgeons use on their patients are clean and functioning, so that they can provide optimal care.
Central Sterile Technicians have a strong understanding of microbiology
and infection control, and through classes like the training program that Abby took, they learn how to work with a team to thoroughly sterilize equipment for the operating room, intensive care unit and more.
She recalls a very busy time in the hospital, after the Boston marathon bombing occurred. Her team came together to work extra hours to provide amazing care for those affected by the tragedy.
"My career is about patient care," Abby says. "We put the patient first."
What is the Day-to-Day Like for Central Sterile Technicians?
Central Sterile Technicians' hours may vary, but most work in one of three shifts.
"I work second shift, which starts at 2:00," Abby says.
As soon as she arrives, she changes into her uniform. As a precautionary measure, most techs wear gowns, masks, face shields, shoe covers, and two pairs of gloves to protect themselves from potentially dangerous fluids and harsh cleaning agents.
After changing, Abby catches up with her team members who then work together cleaning and assembling the equipment, before completing case carts for each patient. These surgical case carts are what the doctor will use to perform operations.
It's a critical role that comes with much responsibility, and it allows you to make a real difference. And at BWFH, our team of tech professionals prove every day that with hard work they can do just that.
"I would recommend anyone to work here," Abby says. "It's a good place that really allows you to grow."
Are you looking for a unique career opportunity in patient care with an organization that is dedicated to your advancement? Explore our Central Sterile Technician openings today!